The situation in Venezuela continues the long slide into chaos that all Socialist system eventually result in. I am not surprised, but I am appalled at the near total collapse of civilization happening there. I also have no idea if the US intends to invade Venezuela. If we actually do invade, well the results will not be good. At any rate, the link below gives a better picture of the ongoing anarchy now seething on the streets and towns of Venezuela.
Doomer Doug, a.k.a. Doug McIntosh now has a blog at www.doomerdoug.wordpress.com
My end of the world e book "Day of the Dogs" is available for sale at the following url
http://www.amazon.com/-/e/B007BRLFYU
The link is below.
https://halturnerradioshow.com/index.php/en/news-page/world/venezuela-in-complete-societal-collapse-widespread-looting-armed-people-attacking-neighbors-to-get-food-we-re-going-to-start-eating-each-other
World
Venezuela in Complete Societal Collapse; Widespread Looting, Armed People attacking neighbors to get food . . ."We're Going to Start EATING EACH OTHER!"
The country of Venezuela is in complete societal collapse after 119 hours without electricity in most of the country.
Below are bullet points of information coming out of Venezuela.  They need no context for the situation to be clearly understood:
"NOTHING TO EAT, EVERYTHING HAS BEEN LOOTED IN MARACAIBO, I CANNOT BUY ANYTHING"
"PEOPLE ARE LOOTING EVERYTHING IN LA CURVA DE MOLINA"
– MARACAIBO IS COLLAPSING
– 100 HOURS WITHOUT POWER/WATER SUPPLY
– WIDESPREAD LOOTING IS REPORTED EVERYWHERE
– THE ARMY IS OVERWHELMED, CLASHING WITH PROTESTERS IN SOME PARTS OF THE CITY, SOME MEMBERS HAVE JOINED THE LOOTING
– BANDS OF ARMED PEOPLE ARE BREAKING INTO BUILDINGS AND APARTMENTS TO GET FOOD/THEY ARE THREATENING THE NEIGHBORS
PEOPLE DRINKING WATER FROM THE RIVER GUAIRÓ (A POLLUTED RIVER) IN CARACAS
Looting and spontaneous protests. Desperate patients begging doctors to be kept alive. Residents bracing for wider attacks on markets and restaurants after the sun goes down.

On Thursday, the San Geronimo B substation in the center of the country, which supplies electricity to four out of five Venezuelans from the massive Guri hydropower plant, went down.
The government said the blackout was caused by an unspecified fault at Guri, which provides 80 percent of the country's electricity. No date has been set to restart the plant and most workers were told to stay home on Monday, said two of the substation's workers and a manager at the national power monopoly, Corpoelec.
Aftermath of transformer explosion/fire in south Caracas: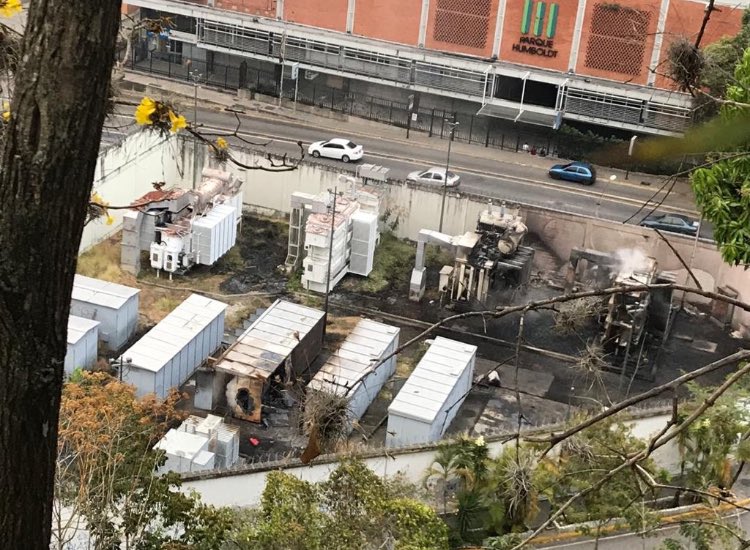 Next, we have the sustained, ongoing economic collapse of the USA. Despite the best efforts of the whore press, the political, economic and cultural elites, it is now clear, at least to me, the US economy is reaching critical mass. The main reason, although not the only one, is the crushing level of debt: corporate debt, consumer debt, and government debt. The debt will NEVER BE PAID OFF. It is only a matter of time before all levels of government in the USA, Federal, state, city and county lose the ability to issue new debt. Once that happens it is game over. When the USA really has to live on actual tax revenue, and not just issue new debt, the results will be catastrophic. The link is here.
http://endoftheamericandream.com/archives/12-statistics-that-prove-that-the-u-s-is-facing-a-consumer-debt-apocalypse
12 Statistics That Prove That The U.S. Is Facing A Consumer Debt Apocalypse
In the entire history of the United States, consumers have never been in so much debt.  And that would not be a crisis as long as the vast majority of us were regularly making our debt payments, but as you will see below delinquency levels are starting to rise to extremely alarming levels.  In fact, some of the numbers that are coming in are even worse than we witnessed at any point during the last recession.  If things are this bad already, what are they going to look like once the economy really gets bad?  Because even though it appears that we are
heading into a new recession
, according to the Federal Reserve it has not officially begun yet.  That means that much worse is yet to come.  Just like last time, millions of Americans will likely lose their jobs, and without an income most of those that suddenly find themselves unemployed will not be able to pay their bills.  The stage is set for the largest tsunami of consumer debt defaults that this country has ever seen, and that will absolutely devastate major financial institutions all across America.
If you think that I am exaggerating even a little bit, please read over the following list very carefully.  The following are 12 statistics that prove that the U.S. is facing a consumer debt apocalypse…
#1 Total consumer debt in the United States just surpassed the 4 trillion dollar mark.  That has never happened before in all of U.S. history.
#2 When you throw in mortgages and all other kinds of individual debt, U.S. consumers are now 13.5 trillion dollars in debt.
#3 A whopping 480 million credit cards are in circulation in this country.  That number has shot up by nearly 13 percent since 2015.
#4 U.S. consumers are carrying 870 billion dollars worth of balances on their credit cards right now.
#5 56 percent of Americans that currently have credit card balances have been carrying them for more than a year.
#6 The number of "seriously delinquent"credit card accounts in the U.S. has shot up to 37 million.
#7 Americans now owe a total of 1.3 trillion dollars on their auto loans.
#8 At this moment, more than 7 million Americans are delinquent on their auto loan payments.  The figure has already surpassed what we witnessed during the peak of the last recession by about a million.
#9 The total amount of student loan debt in the United States has reached the 1.5 trillion dollar mark.  Over the last 10 years, that number has more than doubled.
#10 Right now, more than 166 billion dollars in student loan debt is considered to be "seriously delinquent".
#11 Millennials are now more than a trillion dollars in debt.  No generation of Americans has ever been deeper in debt at this stage in life.
#12 One recent survey found that 78 percent of Americans "are living paycheck to paycheck".  Suffocating debt levels are a big reason why that figure is so incredibly high.
Since so many Americans are living paycheck to paycheck, that means that there is very little room for error.  During the last recession, large numbers of Americans immediately began getting behind on their bills once they were laid off, and we saw mortgage defaults rise to unprecedented levels.  Sadly, we haven't learned from our past mistakes, and millions upon millions of Americans will find themselves drowning in an ocean of red ink once again during this next recession.
But even if you are not living paycheck to paycheck, carrying credit card balances is a very unwise thing to do.
Most Americans don't realize that if you only make the minimum payment on a credit card every month, you can end up paying more in interest than you did for the original purchases.  The following comes from USA Today…
If a credit-card borrower only made the minimum payments on $5,000 of debt, for example, they'd be in debt for more than 18 years and would end up paying $6,372 in interest based on national average interest rates, according to Ted Rossman, industry analyst for CreditCards.com.
If you keep playing this game, I promise you that you will never get rich.  Instead, the only people that will be getting wealthy will be the people that are receiving your debt payments.
Credit card debt is one of my pet peeves.  One of the best financial moves that anyone can make is to get out of credit card debt and never look back.
And that is particularly important at this juncture because the economy is really starting to slow down.  Compared to last year, U.S. job cut announcements were up 117 percent in February.
We haven't seen anything like that since the last financial crisis.
At this point, even mainstream economists are openly admitting what is coming.  Mark Zandi, the chief economist at Moody's Analytics, sounded downright gloomy in his most recent article…
The economy is throttling back. Way back. That's the message in the near stall out of job growth last month. Job creation probably isn't as bad as February's disappointing numbers suggest — unusually poor weather played a role in limiting job growth to just 20,000 — but it is weaker than just a few months ago. Businesses are nervous, and sentiment is at risk of breaking if anything goes wrong.

And plenty could go wrong. A recession could materialize swiftly if businesses lose faith, and there is a good chance they will.
And when the next recession strikes, things are going to get very, very rough for U.S. consumers.
A consumer debt apocalypse is coming, and it is going to be incredibly painful.