I said at the time the US Coalition wasted those Russian mercs Putin would have a robust response. Putin has now deployed to Syria four of his most advanced stealth fighters. The Su-57 has the mission of engaging US F-22 Raptor fighters. The SU57 has the mission of shooting down our F-22 fighter jets. Well, the message is now very clear from Russia to the US coalition forces in Syria. The message is, to both Israel and the US, back off or face the consequences.
Assad Junior is moving to retake his capitol city. He is moving east to his border with Iraq, which will bring him into conflict with the US Coalition forces there. He is moving south the Jordanian and Syrian border, which will bring him into combat with the US forces stationed there. Assad Junior is moving towards the Golan Heights, which will bring him into conflict with Israel. Iran and Hezzbollah and Lebanon's military are going to engage Israel's F-16's when they enter Lebanon's airspace and use it to launch on Syrian and Iranian targets inside of Syria.
If any of you retain any illusions about just how bat poop crazy Erdogan truly is, check out this link to a video where Erdogan is telling some Turkish child she will die in combat. It is like Hitler's awarding the Iron Cross to those 10 year old kids in 1945. The man is quite mad in my opinion.
https://mobile.twitter.com/abdbozkurt/status/967444991177035776
THIS IS SICK: #Turkey's war-mongering president #Erdogan parades a little girl dressed in military fatigue in today's convention speech in Maras province, tells that she is ready to be martyred and buried with a Turkish flag in her pocket.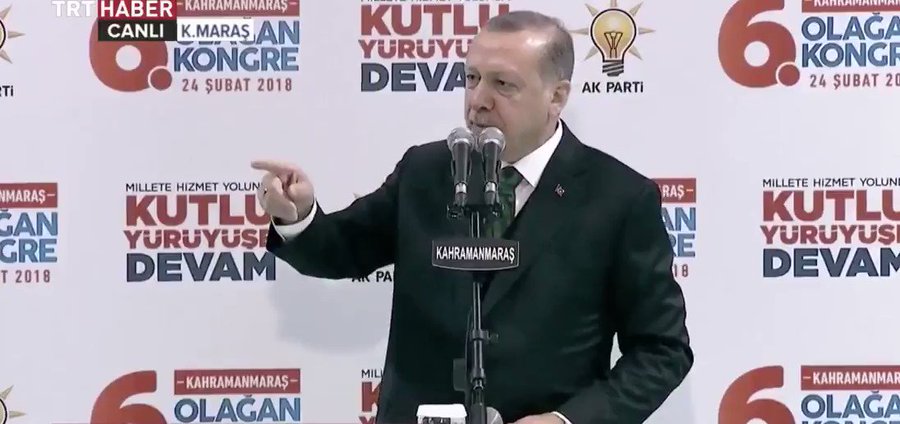 Erdogan, well our would be Sultan of the Restored Ottoman Empire is now threatening, all at the same time, to invade NATO member Greece, crush the Kurds in Afrin, move to attack Manbji, with its American military forces stationed there, as well as go to the current Syrian and Iraqi border on the Euphrates River. Other than that, Syria is in good shape.
The link is here.
https://www.timesofisrael.com/russia-deploys-advanced-stealth-jets-in-syria-with-warning-aimed-at-israel/
Russia deploys advanced stealth jets in Syria with warning aimed at Israel
Satellite images show two Su-57 at airbase in Latakia; Russian official says presence of planes a 'message' to neighboring states who fly aircraft into Syria 'uninvited'
Russia has deployed two of its most advanced and sophisticated stealth jets in Syria, in a power move likely to draw US criticism, as the Pentagon expressed its alarm earlier this month over recent close calls with Russian planes in the war-torn country.
Satellite images published by Israeli company ImageSat International on Friday showed the fifth-generation jets — two Su-57 fighter aircraft — at Russia's airbase in the coastal Syrian city of Latakia. A source in the defense ministry confirmed to RBK news agency this week that the two planes were sent to the Hmeimim base "for a test in real conditions." The jets are said to be a potential rival to the US's Lockheed Martin F-22 Raptor, which American forces use in patrols over Syria.
https://www.debka.com/russias-topline-su-57-deployed-syria-challenge-us-israeli-air-might/
Two more Russian topline Su-57 land in Syria to challenge US, Israeli air might
Government sources in Moscow reported Saturday, Feb. 24, that four fifth-generation Sukhoi-57 jet fighters are currently deployed in Syria after a second pair landed Friday.  The first two arrived on  Monday, Feb. 19 at Russia's Khmeimim air base, along with 4 Su-35 fighters, 4 Su-25 strike aircraft and an A-50U radar command-and-control platform.
DEBKA file reported the first pair's arrival on Friday, Feb. 23, along with this comment: This top-performance fleet raises Russia's air strike and defense capabilities in Syria to the highest standards of any air force in the world, with enough power to take on superior US and Israeli air might in the Syrian arena. The Su-57's weapon bays are designed to carry Russia's new nuclear tactical X-50 air-launched cruise missile, although it is not known whether the aircraft in Syria are carrying them. DEBKA Weekly's military sources see President Vladimir Putin's decision to send the Su-57 fighters to Syria as substantially raising the big power stakes in Syria after the loss of dozens of Russian troops on Feb. 7 to massive US artillery and air strikes that decimated the Russian, Syrian and pro-Iranian forces crossing the Euphrates River. An American radar-invisible F-22 took part in that raid. The Russians have dubbed the Su-57 the "F-22 killer."
It is also Russia's response to Israel's air offensive on Feb. 10, which targeted the shared Russian-Iranian T-4 air base near Palmyra and smashed four Iranian Revolutionary Guards forward command centers in Syria, after downing an Iranian drone. It is also seen in Moscow as a challenge for Israel's newly acquired fifth-generation US F-35 combat aircraft.
Does Putin intend to order his mighty airborne strike force to go into battle against the US or Israel in the boiling Syrian arena? If he does, he will be launching the first contest between the most sophisticated warplanes ever devised for a test of superior might between the US and Russia and a war escalation unprecedented, even in Syria.
The very presence of the Su-57 across the border has had the instant effect of reducing the Israel air force's freedom of action over Syria and Lebanon.
Doomer Doug, a.k.a. Doug McIntosh now has a blog at www.doomerdoug.wordpress.com
My end of the world e book "Day of the Dogs" will soon be available for sale at smashwords. The url is
https://www.smashwords.com/books/view/267340 It is also at the following url
http://www.amazon.com/-/e/B007BRLFYU